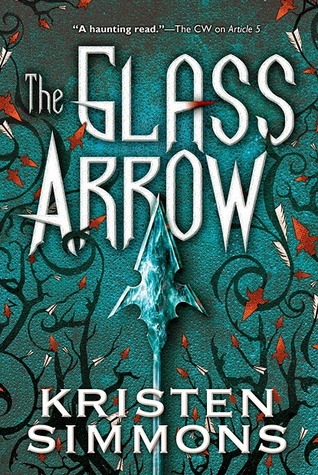 "If the scientists here are so great, how come they can't do what we can do? How come they can't make a boy? The Governess once told us they've tried but the results were deformed, or sickly or not right in the head. That's why we're so important. That's what they get for messing with nature."
Title:
The

Glass Arrow
Author:
Kristen Simmons
Publi

cation

Date:
Feb 10th

, 2015
Publishe

r:
TorBooks
Source: Audobook from RecordedBooks
Where to find: Goodreads / Amazon / Book Depository
I have a lot of mix feelings about this book. To stat off with, the premise is absolutely captivating. You have a society where girls are hunted and auctioned off to the highest bidder. Girls like Aya are prized due to their ability to be bred for males. The society that Simmons has created with the Magnates, Drivers, and the girls is unique and fascinating. At at the same time, it is scary to think of a society where young girls are sold due to their ability to potentially create male heirs.
In this book, we have Aya who grew up in the mountains with a small group of other women on the run. When she is caught and brought to auction, live takes on a whole new meaning in terms of surviving and being free again. This is a story of survival and gaining your freedom. And that is what I liked most about it. This was simply a story about Aya's journey to freedom. It was her on her own with help from Kiran. But for the most part she was a strong independent girl who could take care of herself. The book was also not a full on love story between Aya and Kiran. It was a subtle building of something more without it driving the plot completely.
As for my issues with this book, the big thing was how incredibly slow the plot was. It took me way longer to get through this book due to how long it took to get to the story. The first third or so of the book is just Aya attempting to escape, time and time again. It was annoying and incredibly boring to see her make little to no progress. The last few chapters is where everything really happens and comes together. And I can say I did not see the identity of a certain character coming.
I listened to this book on audiobook narrated by Soneela Nankani. I've never been a huge fan of audiobooks and this book was no exception. Many people love audiobooks, but I personally prefer holding a book in my hands to read and enjoy it. That being said, I think Nankani did a good job of sharing the story. I just personally am not an audiobook listener.
Overall, this book was a fascinating premise and I enjoyed Simmons writing. I appreciated the way the story unfolded, I just wish it had not been so slow in the beginning. Plus this is a stand alone which is incredibly rare in the genre of dystopia. I would recommend this book to people who are okay with slow starts but more importantly for someone who wants to dive into a truly corrupt and enthralling world.
*I received the audiobook from Recorded Books via LibraryThing in exchange for an honest review*
♛ ♛ ♛
½
Let me know in the comments what your thoughts are on the book or in you have any thoughts on audiobooks!