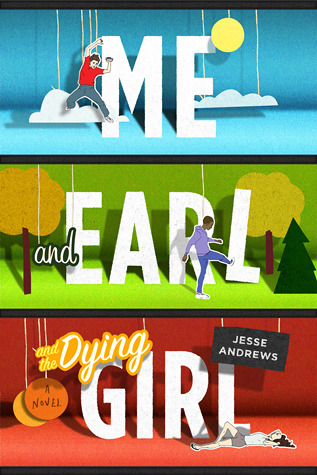 "Also, what the hell does "weird even mean? I've just written it like five times and all of a sudden I'm staring at it and it doesn't even mean anything anymore. I just murdered the word "weird." Now it's just a bunch of letters. It's like there's all these dead bodies all over the page now."
Title:
Me and Ear

l and the Dying Girl
Author:
Jesse

Andrews
Publi

cation

Date:
March
1st, 201

1
Publishe

r:
Amulet Books
Source: eBook
Where to find: Goodreads / Amazon / Book Depository


I absolutely loved the style of this book. I loved how Greg was talking to you the reader. I also loved the mix of lists, scripts, and "normal" writing. It really added to the uniqueness of this book. For me the best part of this book was the way in which it was written, but also the humor. There were so many lines in this book that had me giggling and laughing to myself. This is definitely not a book I would want to read in public, because I definitely would have gotten some strange looks.
In terms of actual plot, I appreciated that while this is a cancer book it did not focus on the cancer. Instead it was about the weird group that Greg, Earl, and Rachel formed as a result of Rachel's diagnosis. While I found it really improbable how their meeting and friendship came about, I loved the interactions from Greg's point of view on what happened. I loved that Greg didn't care what he said, his only goal was to make Rachel laugh and for a little bit of her day forget about her cancer.
But like I said this was not a cancer book, it wasn't even really about Rachel. We literally learn little to nothing about her by the end of the book. And while Greg admits this toward the end of the book, I would have liked to have learned more about her rather than the focus solely on Greg. This book was about Greg and his coming to "hang out" with Rachel. But these hang outs were mostly just Greg talking and making Rachel laugh. We don't actually learn about what Rachel likes to do and what she is like as a person.
My main issue with this book was the lack of depth of the characters. We have Rachel who is the "dying girl" who we learn little to nothing about even though she is in the title. Then we have Greg who while we know the most about him, I feel like he was a very easy character to dislike. And finally you have Earl, who is just the enigma of a stereotype. The characters in this story were flat and showed little to no growth throughout the book. I think the book would have been better if the characters were more fleshed out and we knew more about them, especially in Rachel's case.
As I said, the humor and writing were the strong aspect of this book and why I gave it such a high rating. While this is a book about a girl with cancer it really is not a "cancer book" and i appreciated that. I'm also really looking forward to the movie!
♛ ♛ ♛
♛
Let me know in the comments what your thoughts are on the book and if you're excited for the movie!