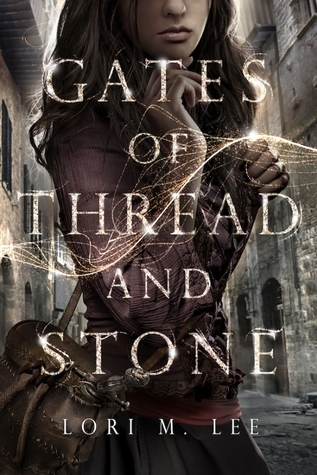 "Death lived in a glass tower at the center of the White Court. I could see the tower from anywhere in the city. It cut the skyline like a blade. Death- She probably had a real name- was Kahl Ninu's right hand and his personal executioner. Or at least, that's what the rumors said."
Title:
Gates of Thread and Stone
Author:
Lori M. Lee
Publi

cation

Date:
August 4
, 201

4
Publishe

r:
S

kyscape
Where to find:
Goodreads
/
Amazon
I've been wanting to read this book forever. I follow Lori M. Lee on Twitter and she seems like a great person and she really enjoys interacting with fans. Both the premise and the cover of this book drew me in! This book was definitely as good as expected, if not better. I loved the story, the characters, the world, and the writing. I also loved all the different elements wrapped into this story. You have time manipulation, steampunk, fantasy, and even mythology. It was a fascinating blend of elements.
The plot was somewhat slow in this book, but that was due to extensive world building. Lori did an amazing job setting up the story and introducing us to Kai, Reev, and Avan. There are plenty of other characters in this book too, that all have an important tie to those main three.
At first you think this book is about Kai and Avan leaving the city walls to find Kai's brother, Reev, but it is so much more than that. Reev's disappearance is more complicated and it requires Kai and Avan to go undercover at the Tournament to hopefully get Reev and leave the city again. The ending of this book shows just how complex and well-thought out the plot is and was totally unexpected for me.
The magic system in this book is very unique. And how Kai fits into this system is unclear (it is somewhat cleared up at the end but I still have a lot of questions). She can manipulate the threads of time, but it is not really clear what the full potential of her powers are. I really wished we could have seen more of Kai's powers and what she is capable of. I really hope in subsequent books we learn more about them as she experiments with them.
Overall, this was a great introduction into a new series. Lori's writing style is fantastic, she pulled me right in and there were many times I did not want to stop reading even though I had to, to either go to bed or go to class. I flew through this book in under 24 hours. That is how much I loved it. I'm also really glad I have a galley of the second book, The Infinite. So I can jump right into that without having to wait!
*I received a galley of this book through NetGalley in exchange for an honest review*
♛ ♛ ♛ ♛½
Let me know in the comments if you have read the book or plan to read it!