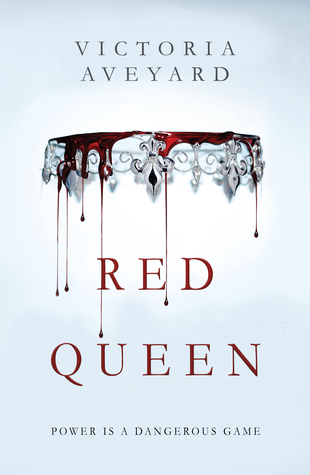 "I'm a Red girl in a sea of Silvers and I can't afford to feel sorry for anyone, least of all the son of a snake."
Title:
Red Queen
Author:
V

ictoria Aveyard
Publi

cation

Date:
February 10

, 2015
Publishe

r:
Harper

Teen
Where to find:
Goodreads
/
Amazon
This book was beyond highly anticipated. And to be honest I was a little weary of it because of the hype and attention it was receiving. Luckily, I was not disappointed at all. This book was magnificent. I thoroughly enjoyed it and once I started, I did not want to put it down. From a superficial standpoint, the book draws you in simply because of the cover. It is down right gorgeous. In person, it is even better with the texture of the crown and the blood. The end pages are also beautiful.
As for the actual book, Red Queen combines many of the favorite YA themes and aspects, but in a new way. You have a Red pretending to be a Silver, much like Darrow in Red Rising is pretending to be a Gold. You have different Silvers with different abilities very much like in the X-Men realm. There is a Game of Thrones aspect with the different houses all competing with each other for power. There is even a little bit of The Selection with the princes picking their brides. While this book had so many aspects from other series, it did not cause me to enjoy it any less. I can see how others could be annoyed by this though. For me, I loved how Victoria Aveyard blended all the different ideas into her own story.
Mare is an interesting character. She is very focused on protecting those she loves and will protect them at any cost. Even if it means risking herself in the process. However she is also a little too gullible and trusting of those around her, which is problematic at times. I absolutely loved Cal. He was great. From the first sighting of him, I knew he was more than just a guy at the bar. The dynamic between Cal and Mare was fantastic. I loved all their scenes together.
A lot of people would say this book has a love triangle. And I'm not sure I would agree with them. Yes there are multiple "interests" but romance is not at all a major aspect of this story. This story is about rebellion, political ties, War, and the ever growing thirst for power and control.
Overall, this book was highly enjoyable and lived up to the hype. Victoria Aveyard wrote a wonderful book and I cannot wait for the 2nd installment especially with how action packed the last 20% of this book was.
♛ ♛ ♛ ♛½
Let me know in the comments if you have read the book or plan to read it!