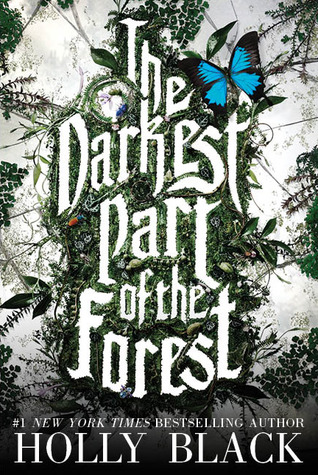 "There's a monster in our wood. She'll get you if you're not good. Drag you under leaves and sticks. Punish you for all your tricks. A nest of hair and gnawed bone. You are never, ever coming... home."
Title:
The Darkest Part

of the Forest
Author:
Holly Black
Publi

cation

Date:
January 13, 201

5
Publishe

r:
Little Brown
Where to find:
Goodreads
/
Amazon
This book focuses on a town called Fairfold. The town is right next to a forest filled with faeries. Within the forest lies a "glass" coffin with a strange horned boy. The coffin has been there since everyone can remember. Our two main characters Hazel and Ben have grown up talking to the coffin and the boy inside falling in love with him along the way. They are knights to his prince. Then one morning the town wakes up to find the coffin broken and the boy gone. We later learn that the boy's name is Severin.

The characters in this book were amazing. We had Hazel who has never let anyone in and kisses every boy in sight. We have Ben her brother who also happens to be gay. There is Jack, Ben's best friend and Hazel's old crush, who also happens to be a changeling. And finally we have the horned boy Severin. You also have the townspeople and the tourists who all play a role in what it means to live Fairfold with the faeries in the forest.

The characters alone were interesting, but what I really liked was the relationships between the characters. A lot of the story focused on the sibling relationship between Ben and Hazel. This was not a simple romance between different characters in the book. It was more about Ben and Hazel and what they were willing to do for each other. And of course it was about saving the town from the faeries and their mischief.

Part of this review needs to focus on the sheer awesomeness of this book. It is just over 300 pages but still has incredible world building and an amazing story. Holly Black's ability to write a paranormal stand-alone book is astounding. Not only do I love her writing, I also appreciate what she did with this book. It had the faerie lore along with modern culture.

I've always loved fairy lore and for me Holly Black is one of the best when it comes to fairy books. I loved this book. It was the right mixture of creepy, dark, and happy.
♛ ♛ ♛ ♛½
Let me know in the comments if you have read the book or plan to read it!