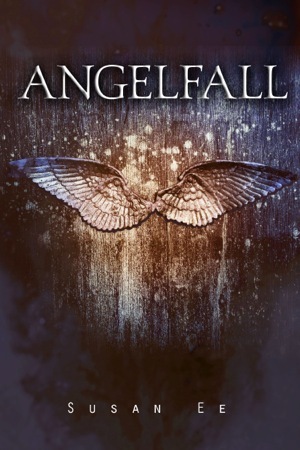 "I knew from the start that your loyalty would get you killed. I just never thought it would be your loyalty to me that would do it."
Title
: Angelfall
Author
: Susan Ee
Publication
Date
: August 28, 2012
Publisher
: Amazon Childrens Publishing
Source
: ARC via NetGalley
Where to
find
:
Goodreads
/
Amazon
This book was full of action right from the start. The first chapter alone has Penryn, her sister, Paige, and their mom braving the outside world filled with gangs and angels. This book pulled me in right away and kept me entertained and wanting to continue reading to the conclusion. I even stayed up late last night to finish it.
The progression of Penryn and Raffe's relationship is amazing. From the start, they are thrown together due to common destinations, but as they continue to work together they become some form of friends (and even more eventually). The two of them were so great and I loved their interactions. The times they were apart in the book were sad, but luckily it was never too long of a wait until we saw them together again.
The world Susan Ee has created in this post-apocalyptic angel invasion world is fascinating to me. We get a little bit of background surrounding the evasion and the world before, but I would have love more of it. There are two more books to this trilogy, so I hope we eventually do get that background. To me that was the only flaw with this book, just a lack of background information.
The ending of this book makes me really want to continue on with the trilogy to find out what happens. So many things happened that left me with questions. I do not want to spoil anything, but there are so many events that clearly will have implications in the future, plus that ending was somewhat cruel. We do not really know the outcomes for the characters and we do not know what is going to happen in the aftermath.
I look forward to reading the rest of this series after the strong start with Angelfall.
*I received a copy of this book from NetGalley in exchange for an honest review*
♛ ♛ ♛ ♛½
Let me know in the comments if you have read the book and what your thoughts are.