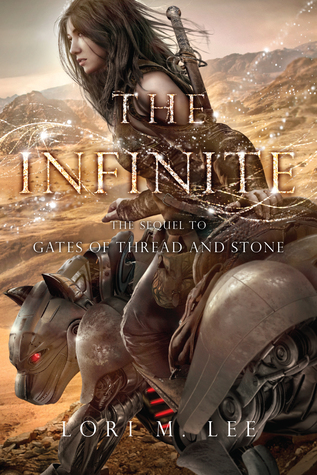 "I was the daughter of time, and I would make them pay."
Title:

The Infinite
Author:
Lori M. Lee
Publi

cation

Date:
March 10th, 2015
Publishe

r:

Skyscape
Source: ARC via Netgalley
Where to find: Goodreads / Amazon
Okay, I'm going to attempt to keep this review spoiler free, but I always struggle to do that for sequels. So here it goes. Also gorgeous cover. Personally, I like the first one better, but this one is great too!


This book starts off a few months after the end of Gates of Thread and Stone. We have Kai, Reev, and Avan dealing with the aftermath of what happened. Kai is dealing with finding out just who she is and what her powers mean. The end of Gates of Thread and Stone left me with a lot of questions and while some of those were answered, I feel like I have even more after finishing the Infinite!

I absolutely love Lori M. Lee's writing. There is just something about it that immediately draws me in and keeps me entertained and desperate to find out what happens. This book starts out with an amazing line just like the first book did. I love the descriptions in this book. I am always vividly aware of what is around Kai.

Kai continues to impress me as a strong character. Her development and characterization in this novel is amazing and in some ways even better than in the first book. I really loved how Kai dealt with the events of both the first book and this book. This book takes us even further outside of Ninurta into a new land called Lanathrill. I loved how Lee expanded the world in this book. We realize that other people exist outside the walls of Ninurta and Etu Gahl. I also loved the new characters we are introduced to. They were a great contrast to Kai especially because they grew up in a different "world".

My only real complaint with this book is the lack of Reev and Avan for a lot of it. Yes, they are in the beginning and end but the middle part of this book is lacking. I came to really love those two and we do not get very much of them in this book. Especially Reev, the first book was all about finding him and in this book we continue to be with Kai who is not with him. Not having Avan for most of this book was sad because I love Kai and his interactions and those were lacking. However, we did get to spend more time with Mason which was nice.

This was another great installment in this series and I cannot wait to see what happens next! The ending especially left us hanging now that we know who and what was behind the events of The Infinite.

*I received a copy of this book from NetGalley in exchange for an honest review*
♛ ♛ ♛ ♛½
Let me know in the comments if you have read the book and what your thoughts are.