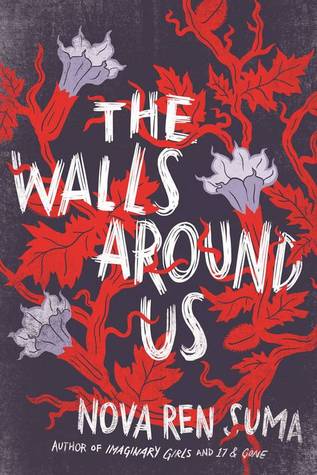 "Because that was the night we went wild. I remember how we fought and we cried and we hid and we flung ourselves through windows and we pumped our legs with everything we had and we went running as far as we could make it, which wasn't far."
Title
: The Walls Around Us
Author
: Nova Ren Suma
Publication
Date
: March 24th, 2015
Publisher
: Algonquin Young Readers
Source
: ARC via NetGalley
Where
to
find
:
Goodreads
/
Amazon
The Walls Around Us was a fascinating read focusing on the lives of three teenage girls. The cover alone draws you in. It is stunning. But under the cover is a fantastic book filled with mystery, heartache, and guilt.
So with this book, I definitely think you should go into with little-to-no knowledge of the plot. Personally, I think the synopsis gives away too much. I think you are better off going into the book blind. I think the book was more enjoyable for me because I had not reread the synopsis prior to starting the book.
This is another one of those alternating perspectives that all intertwine in some way towards the end of the book. And Nova Ren Suma is a fantastic writer. She just has a way with words that pulls you in and keeps you entertained, but also guessing as to what is going to happen. There were so many quotes and lines in this book that were beautifully written. The writing was definitely a large part of my enjoyment of the book.
The characters in this book are amazingly written. You really feel and see the guilt, the fear, the anger, and the hopelessness in the characters. I will not go into specifics because you really should know as little as possible about the characters going into this book. But the writing is just phenomenal, it really brought you to the feelings these girls were having and what they were dealing with.
While this book has the alternating perspectives, I feel like it does it in a unique way. You follow one character for 3 or 4 chapters before you switch to another. I really liked that we got to follow a character for longer before we switched. You really got to go deep into what was happening with them rather than flipping back and forth. It also added to your growing feelings and attachment to the characters.
Overall, this was a beautifully written book that I really enjoyed. The writing and the characters were done really well. I definitely will need to look into reading more of Nova Ren Suma's books.
*I received a copy of this book from the publisher via NetGalley in exchange for an honest review*
♛ ♛ ♛ ♛
Let me know in the comments if you have read the book and what your thoughts are.